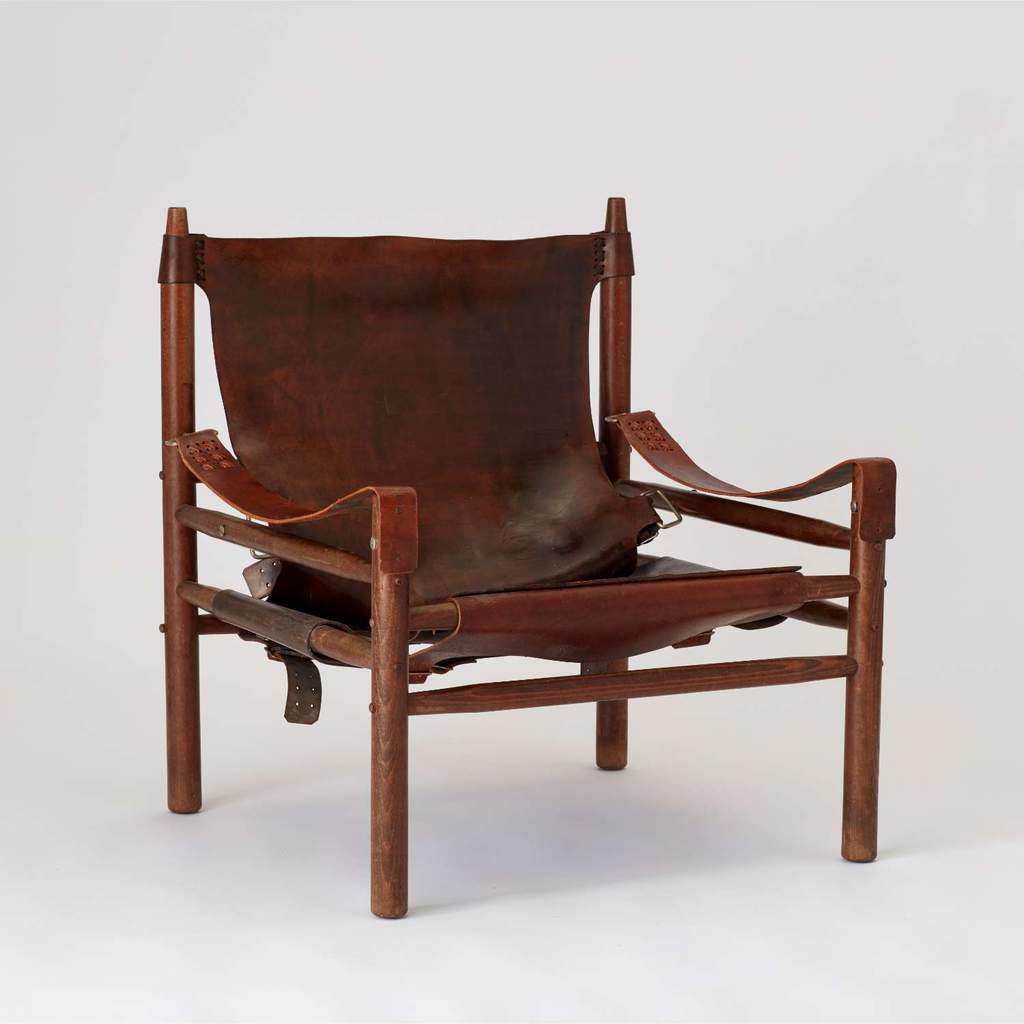 Surely an indicator of how useful an object or how sustainable a material is the length of time it has been used and reused throughout history? Cotton, silk, linen, wool and finally, leather: what was perfect for the task 3000 years ago, continues to be perfect for the task today.
Add to this accolade the fact that technological advancements mean manufacturing processes are far more environmentally sound and that contemporary innovations also render production more efficient than ever before and a material's longevity and worth become even more apparent.
Vintage French Leather Magazine Rack AU
Leather - Ancient skills and craftsmanship
Ancient skills and craftsmanship are still relied upon to produce leather, even alongside the use of clean, modern technology. Nevertheless, it retains its centuries' long, earthy appeal.   Neither overtly masculine nor obviously feminine - in fact, either if so desired - this androgynous nature is just one facet of leather's worth. Indeed, it could be said that its enduring charisma rests in its contradictions and chameleon-like ability to fit in with its application or its surroundings, be these contemporary or traditional, colourful or muted.
Vintage Leather Hide hand stitched lamp shade
Leather in interior styling
In interior styling, leather excels at being the bold feature statement, but also if necessary, an understudy in subtlety and restraint. It can unite a design scheme, blending seamlessly into vintage interiors with timeless grace, or it can be far more dramatic and stylised. Nowadays it can be produced in every colour imaginable, but often left in natural shades of brown, leather can warm a cooler colour scheme and is often thought of as a neutral in itself.
Soft or textured to the touch, it is not just the feel and the look of leather that makes it so aesthetically pleasing, but also, its smell, which is unique to leather alone. It's this heady combination which renders leather so popular: each assault on the senses is heightened by the effect it also has on the others.
Over time, leather can develop fine lines and wrinkles, but these only add to its patina and character which is why many people choose to buy vintage pieces. With proper care and a little maintenance, leather wears incredibly well, becoming more and more supple. The ability to improve with age on top of a natural durability are therefore two of the main reasons why a vintage leather purchase can be a smart and sustainable investment.
1960s Safari Chair with hand studded detailing AU
The safari chair, designed in 1933 by Danish designer, Kaare Klint, is one example of where leather has been used to great effect to balance the artistry of craftsmanship with the practicality of a hardworking piece of furniture. Comfort for the user is paramount - no matter the terrain - and it is the combination of the design and specifically, the leather that enables this piece of furniture to be equal parts adaptable and beautiful.
Pair of Vintage Tribal Mexican Leather Tub Chairs AU
Every leather object or piece of furniture in AU's collection has been chosen because of its durability, its beauty and its functionality with equal emphasis placed on each of these components.
To browse AU's vintage collection, please click here.
Continue reading