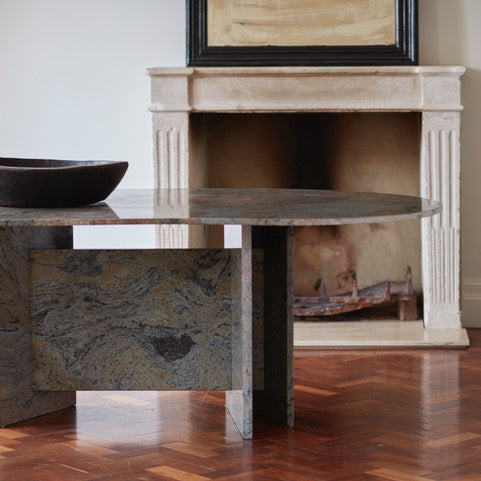 A stone unique and versatile that has been recognised as such by civilisations for thousands of years, marble is adored for its aesthetic qualities as well as its durability and long lasting nature. A metamorphic rock, marble is created deep in the earth's crust where limestone sediments have crystallised from being under considerable pressure and intense heat.
Carving Marble - Vision & Forethought
Throughout history and until relatively recently, all marble was carved by hand. In many places, it continues to be sculpted using time honoured and traditional techniques.
Though slow and painstaking work, requiring not only large amounts of skill and expertise but invariably also forethought and vision, marble is an ideal material for stone cutters because it is 'soft' when first quarried. It is this softness, combined with its chalky white surface, which allows many diverse and contrasting textures to be achieved.
Even better, marble hardens over time; whatever is hewn out of this incredible rock lasts therefore into perpetuity. Marble's metamorphism continues therefore above ground, even after it has been quarried and not just as a result of the whims of sculptors and stonemasons.
Vintage Ochre Marble Table Lamp, AU
Working with Marble, Time honoured & traditional techniques
Computerised carving machines now exist, but many sculptors and carvers today still use the very same tools employed by their forbearers in ancient times. First, the marble is split using a pitching tool, which is essential a hefty chisel with a broad, blunt edge.
The object to be carved – whether a sculpture or a piece of furniture - is roughed out and then a point chisel struck by a mallet is used to concentrate a blow of force on one particular point, bursting stone away. The point chisel is one of many similar tools. Stonecutters and sculptors will also use round chisels, toothed chisels, claw chisels and flat chisels, as well as angle grinders and hand drills to form and shape their work.
A marble sculptor will also need a selection of hammers, both for hitting the chisels and striking the marble directly. Towards the end of the sculpting process, rasps with fine teeth and rifflers, as well as files and abrasive rubbing stones or sand paper are used to smooth rough edges and refine planes and contours.
Set of Three Vintage 1970s Italian Marble Coffee Tables with Octagonal Bases, AU
Natural Marble - Always Unique & Exceptional
When considering all the changes that marble goes through - whether it is changing itself or change wrought upon it by humans - it is still perhaps at the hands of the sculptors and stone masons that the rock reaches its zenith.
Even before sculpted, no two pieces of marble are identical because of the different levels of mineral deposits that determine the veining.
Much like the fingerprints on the hands of the sculptors who carve the marble, no two pieces can ever be the same.
Vintage Grey Italian Marble Hexagonal Coffee Table, AU
But it is not just this uniqueness that makes marble so praiseworthy. No other stone has the quality of lending itself so well to being carved and sculpted, whilst at the same time reflecting a deeply human quality; that of the appearance of skin. Marble's mineral make up and fine grain lend it translucence as light enters the stone. Not only is it able to be polished highly, but also - in certain light – it glows.
Consequently, its surface is not hard and flat but possesses a depth pleasing to the eye. This translucence is known as subsurface scattering and also happens when light touches human skin. This is why, of course, we marvel at the skill of the sculptors who have created the great statues of history and the oftentimes-uncanny lifelike appearance of the statues themselves.
Pair of Vintage Marble Hand Carved Table Lamps, AU
Purity & Clarity of Marble
Just as gemstones and crystals are said to promote healing and restore energy, marble itself is believed to provide both self-control and clarity. Additionally, marble is said to bring about stability, not just, of course, in its physical form as a building material, but also as a conduit to a calm and soothed emotional psyche. Used by the Romans and up until the Italian renaissance as a symbol of purity and immortality and now today, by renowned sculptors and craftspeople the world over, there is only one thing about marble that refuses to change over the centuries; its enduring ability to enrich our lives, whichever form it takes on.
Vintage 1970s Italian Marble Tear Shaped Coffee Table, AU
Desirable Sustainability
Each one of the marble objects in AU's collection has been hand carved by Italy's stonemasons and all have been previously owned. But these vintage pieces are just as beautiful and striking – in both colour and design - as the day they were first hand chiselled from marble blocks; indeed, the fact that they have been loved by others previously makes them perhaps even more desirable. Aspiring, wherever possible, to recycle and reuse need not ever mean compromising on quality or level of artisanship. Though some of the objects may show slight signs of having been both pre-owned and pre-loved, it is these marks that make their sustainable credentials – in our eyes – even more desirable.
Vintage Pale Pink Marble Table Lamp, AU 
To see AU's collection of vintage, hand carved marble tables and other objects, please click here. 
Continue reading