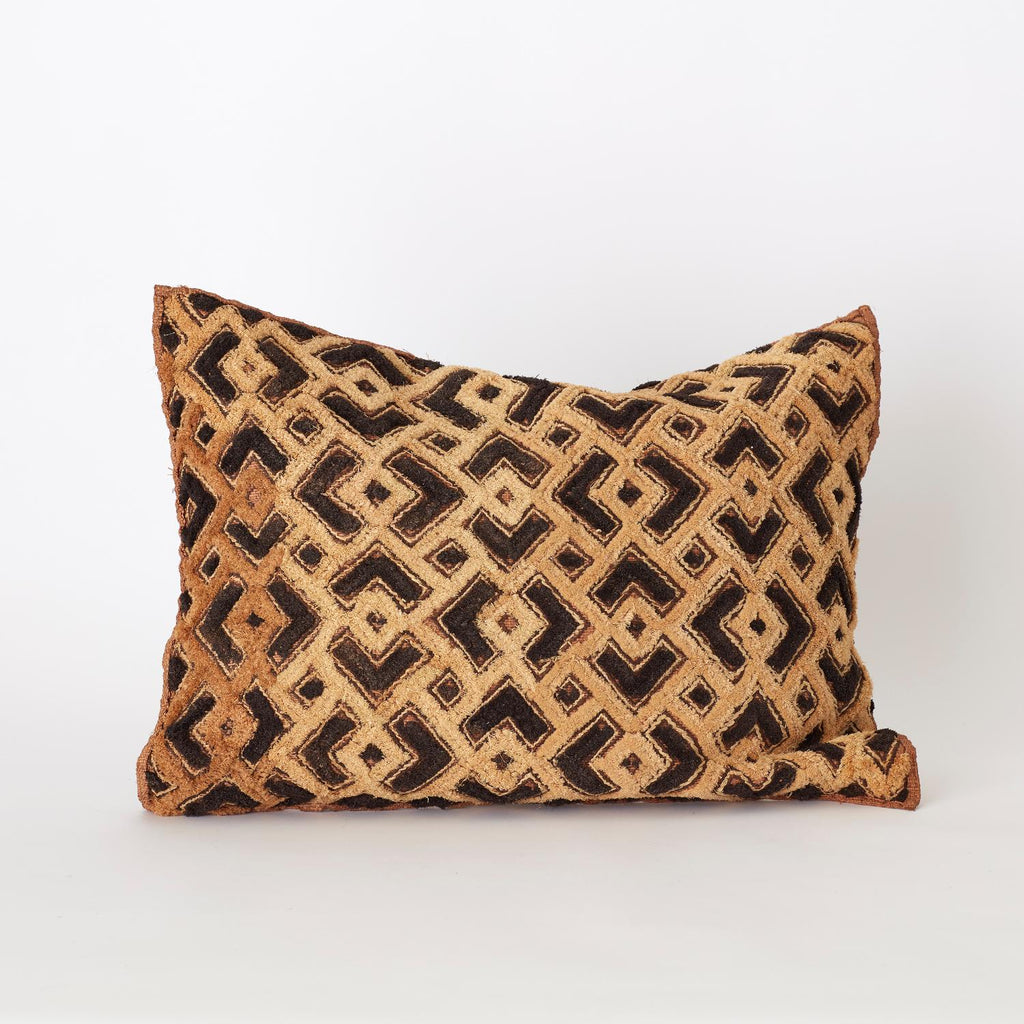 Kuba cloths are so admired for their elaborate designs and craftsmanship that mathematicians have gone to great lengths to study their intricate, complex geometric patterns. Unique to the Kuba Kingdom of central Africa – now the Democratic Republic of Congo and formerly Zaire - vegetable dyes are used to give the fibre of the Raphia Vinifera Palm leaves a variety of earthy tones. Then, Kuba cloth is woven from the leaves' strands. Traditionally used in a multitude of ways, from the prestigious (including ceremonial court adornment and dance regalia) to the more prosaic (for example, as wrapping, sleeping mats and even currency) the cloth remains highly coveted.
 Textile production is firmly rooted in a cultural practice where the division of labour is based on gender. Men are wholly responsible for cultivating the palms and weaving the raffia cloth, whereas it is the women who engage in hand-stitching embroidery and appliqué or the technique of cutting the pile as a form of embellishment in itself. Traditionally rectangular, two main types of Kuba cloth are most prevalent: cut pile, which has been shorn in such a way to form a surface similar to velvet in texture and flat woven, which is the most often decorated. What is common to each piece of Kuba cloth however, is its individual nature; meticulous craftsmanship ensures that every piece is unique. The geometric patterns on the Kuba cloth speak of far more than the artisanal skills of their makers; they're also illustrative of the extent of the exploration that has taken place by the Kuba people into the formal possibilities of geometric variation. It has been clearly evidenced that – in their repetitive border designs - the Kuba people use every single geometric possibility. Of the seventeen geometric designs able to be used on a surface, they have mastered twelve.
Being adept at geometry however, with an innate understanding of its facets does not mean that the Kuba people confine themselves to this patterning alone, especially on larger, open surfaces. That said, their geometric designs – especially when layered and placed in bright light – work rather like a three-dimensional puzzle, giving the eyes and mind a sense of space and upward movement. Indeed, the designs on the cloths have often been described as creating true magic and visual alchemy, which is one of the reasons why the cloths were so coveted and prized, especially during ceremonial occasions. The mathematics behind Kuba cloths is both fascinating and deeply impressive, as is the textile's cultural history and its relationship to African music and other African art forms. Their elemental colours and intricate patterns will add warmth, depth and - perhaps surprisingly for some, an historical mathematical element - to any interior. For AU's carefully sourced collection of vintage Kuba cloth cushions, click here.